This is a customer story where you can get an inside look at what happens when a growing business hires a fractional CMO. You'll see the process from the beginning to its current, ongoing status — the customer's realization and decision-making stage, their hiring a fractional CMO, and the planning and ongoing execution.
The business in question is Baan Thai Immigration Solutions, a law firm founded in Bangkok by an experienced US lawyer, Mark Friedman. Mark founded Baan Thai to meet the immigration needs of expats and international firms in Thailand. He was inspired to create the company after experiencing immigration challenges firsthand when he and his wife moved to Thailand. He was dissatisfied with the services he experienced and determined to bring improved levels of efficiency and organization to the Thai immigration market.
In setting up his company, Mark hired three bilingual Thai legal professionals who joined as partners and brought decades of experience and an existing client base. Mark's fractional CMO is Scott Pressimone from the Growth Connect network.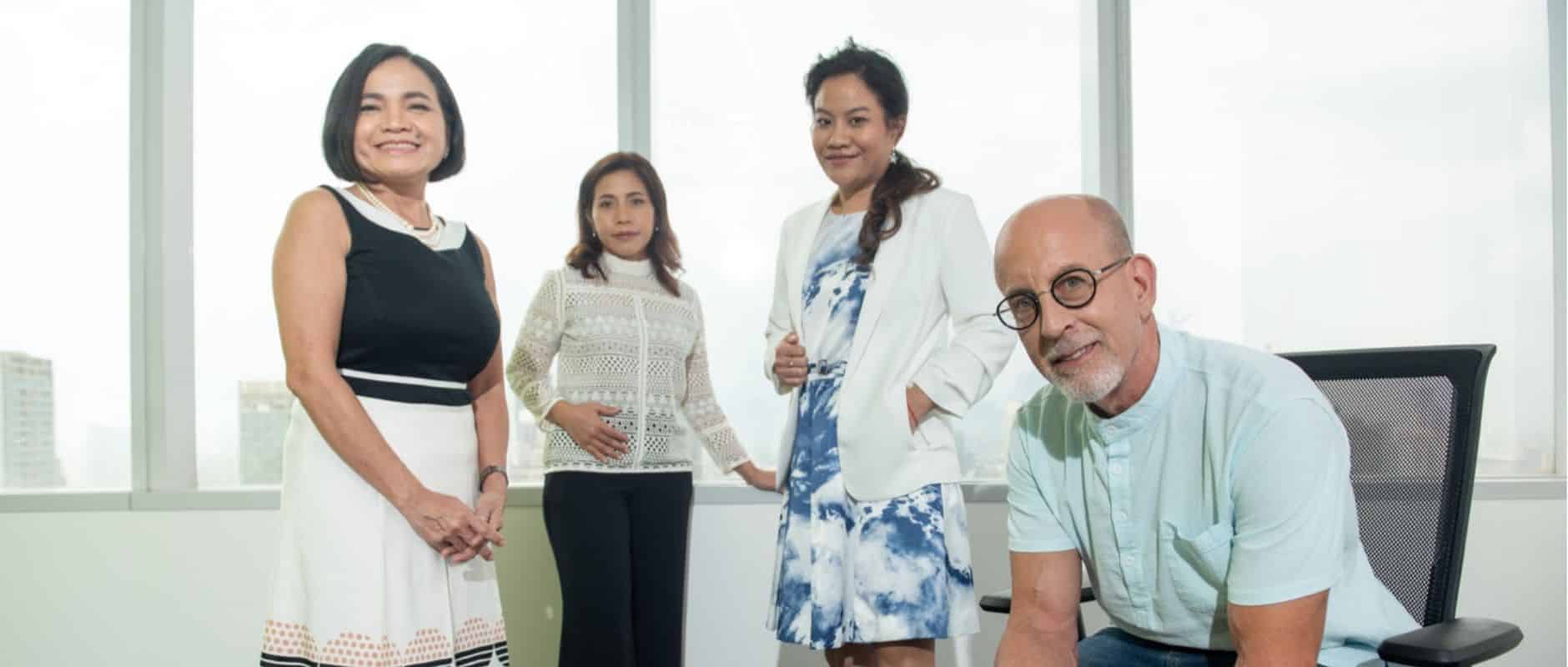 Mark started Baan Thai Immigration Solutions in 2021, so it's a relatively new company in a highly competitive marketplace. He initially contracted a local agency to build the Baan Thai website, but, while the site was beautiful and well-designed, it wasn't capturing leads and wasn't optimized for search engines.
I was not pleased with the marketing assistance we were getting. We needed help building a brand to differentiate ourselves from competitors who had been working in this business for longer.
Mark saw potential in the upper end of Thai immigration services, namely facilitating immigration and marriage for expat professionals, and helping businesses that employ expats comply with Thai labor and immigration laws. He had an experienced team with ample ideas and energy, but he realized they needed someone with marketing leadership expertise — someone who could clearly understand Baan Thai's position in the marketplace, define their customers and messaging, and craft a strategy for connecting with them. In other words, he needed a marketing director or CMO.
As a small company, I couldn't afford a full-time CMO and didn't want to get lost as one of many clients at a large agency. But we needed someone to put a marketing strategy in place so Baan Thai could increase its client base and build a reputation.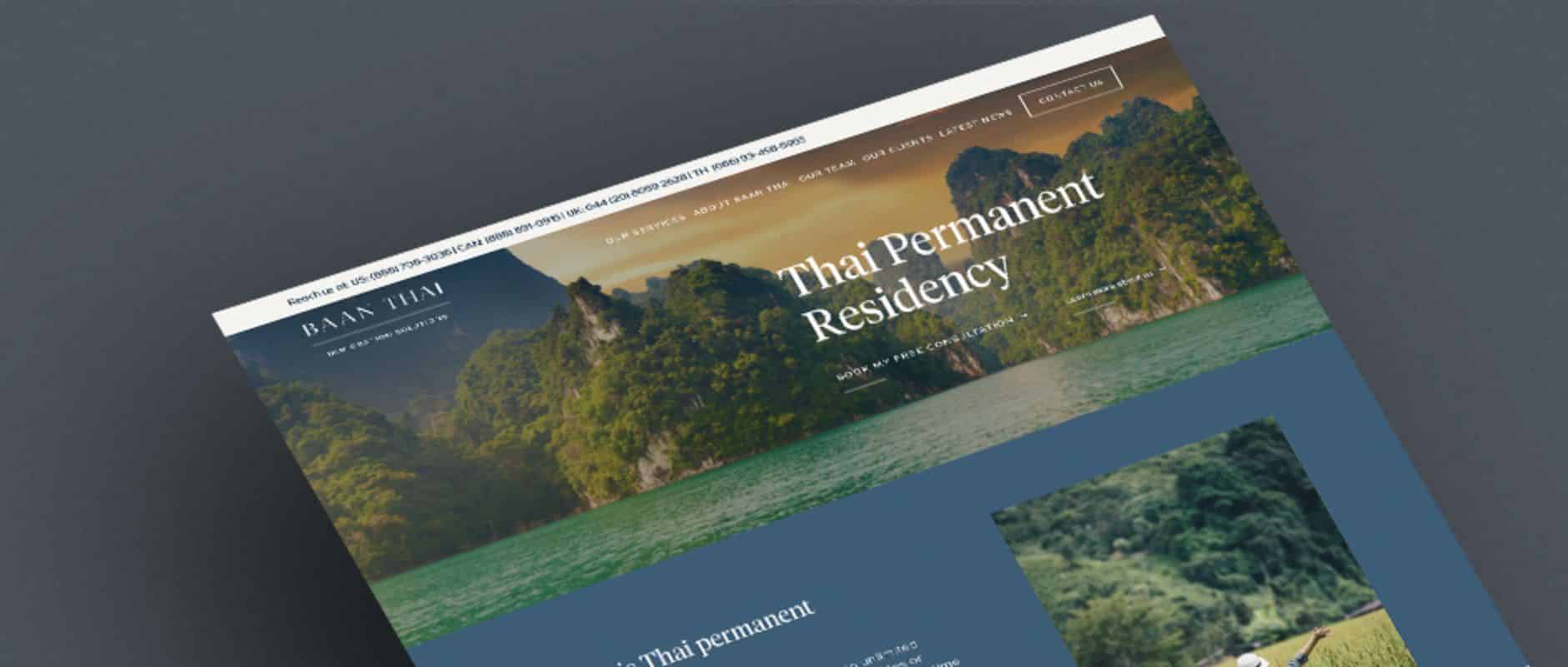 Mark discovered Growth Connect and found their offer compelling. Based on their online presence, he felt they could help make his company and services more visible to prospective clients. He reached out and was introduced to Scott Pressimone, a Fractional CMO and the founding member of Growth Connect. As Mark recalls, "I interviewed Scott, who shared his perspective on how a fractional CMO could help us through the Growth Connect business model. Given the life stage of our company and what he was offering, it seemed like a fit, and we moved forward. We began working together in December 2021, and the collaboration is ongoing."
Scott's approach was to inspire the Baan Thai team to make marketing part of their company culture. Rather than relying on a marketing agency that wouldn't understand the business, it was essential to build the team from the inside and get everyone involved in marketing initiatives. This would ensure Baan Thai communicates its offerings effectively so potential clients gain a clear understanding and can make educated decisions. It would also allow Baan Thai to build a marketing system on a strong foundation, so it could later scale with the growth of the company.
Mark's locally-hired counselors are experts in immigration law and procedures, so it was natural to demonstrate that expertise through Baan Thai's messaging. Scott asked the team to contribute to the creation of the guides, service pages, and other content appearing on the website. The goal was that Mark, his partners, and everyone at Baan Thai would be contributing to the content the company publishes.
Baan Thai's marketing was built from the ground up in three phases: creating a marketing blueprint, implementing foundational improvements, and expanding brand awareness. All three phases will be discussed in more detail below.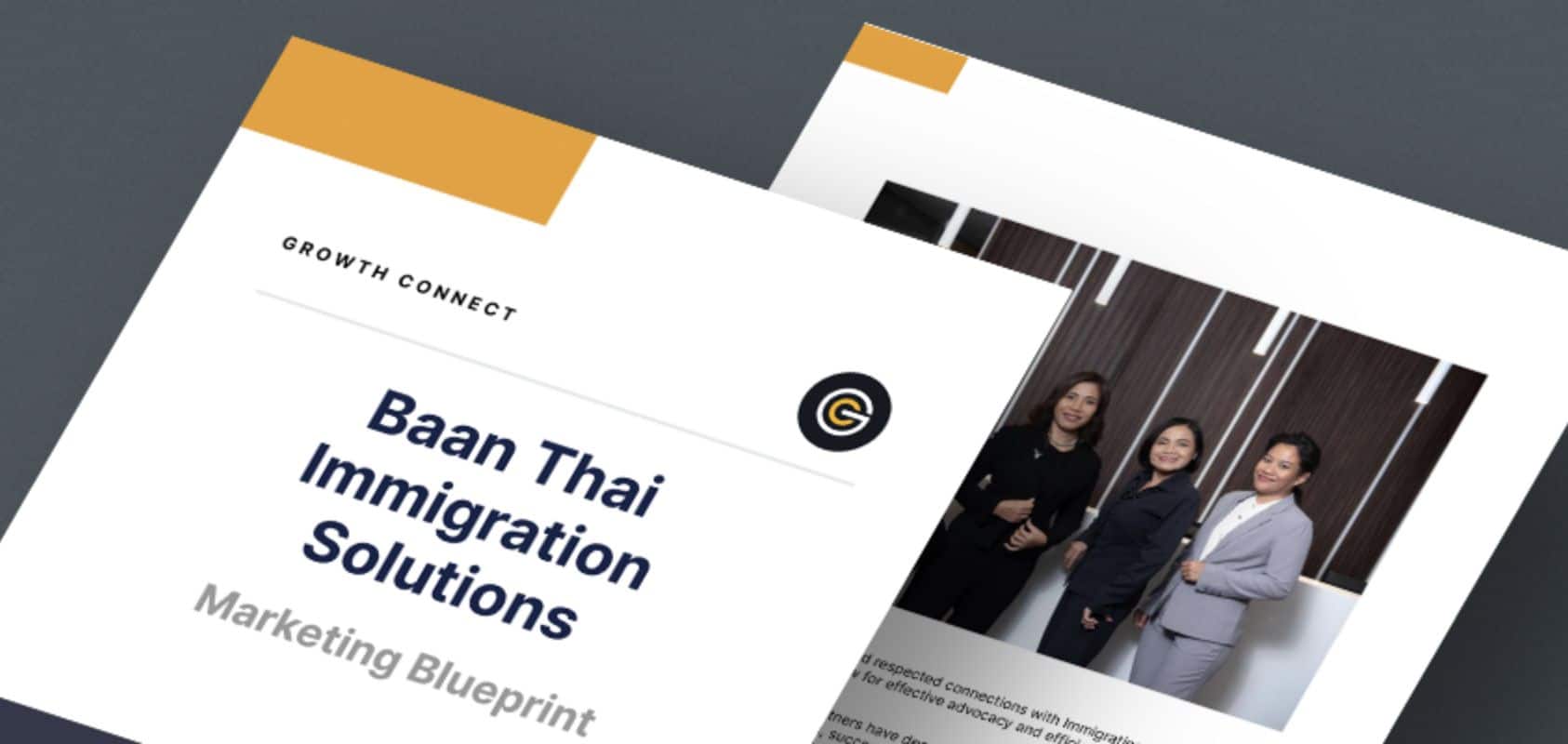 This involved Scott researching the Thai expat labor and immigration environments and meeting with Mark to work through his motivations and goals for Baan Thai. Often, their discussions inspired Mark to consider more deeply Baan Thai's strengths, challenges, and opportunities. This process helped him define Baan Thai's target market and brand messaging. It was essential to realize that Baan Thai is going up against established players but it has easily identified competitive advantages and an appealing value proposition. As Mark later recalled, "It's incredibly important to go through the foundational work that a good CMO like Scott will take the company through, so that you understand the clients your company is pursuing."
To help make all this clear, the blueprinting process answered questions such as "Where do we stand?," "Where are we going?," "Where should we focus?," and "How do we resonate with the audience?". Scott saw his role as narrowing and focusing Baan Thai's messaging, clarifying who the ideal customers are and who they are not.
If you try to go after everyone, you'll end up appealing to no one. It's amazing how many companies start out — or even operate for years — without a clear idea of who their customers and competitors really are, and how they can best reach out to them.
The blueprint phase resulted in a 7,000-word document that outlines Baan Thai's USPs, target customer personas, SEO opportunities, website restructuring, and messaging tone and vocabulary. It laid the foundation for creating a long-term growth strategy based on the most appropriate marketing tactics. It was now time to put this exercise into practical action.
This phase established effective systems for lead generation, capture, and nurturing. The first priority was the website. Scott implemented structural changes to make it more visitor-focused and easier to navigate. Much of the copy was rewritten for clarity and new service pages were added to better communicate Baan Thai's offerings.
Just as importantly, an entire tier of navigation was removed so that fewer clicks are required to move around the site. Finally, contact forms were made more intuitive and appealing to increase conversion rates. The end result is a website with a more engaging user experience, where visitors with specific motivations can quickly find what they are looking for.
The website now had the potential to be an effective platform for attracting and capturing leads. The next step was therefore to publish a lead magnet — an appealing, relevant offer to prospective clients. The first was a free guide to visiting Thailand in post-COVID 2022, which was very well received.
The goal is to publish useful content. Many of the same questions about Thailand's reopening were coming up time and time again on expat forums, so we put in the work to answer these questions in an easily readable guide and made it available for free to site visitors. This enhanced trust and allowed us to start capturing leads from the site.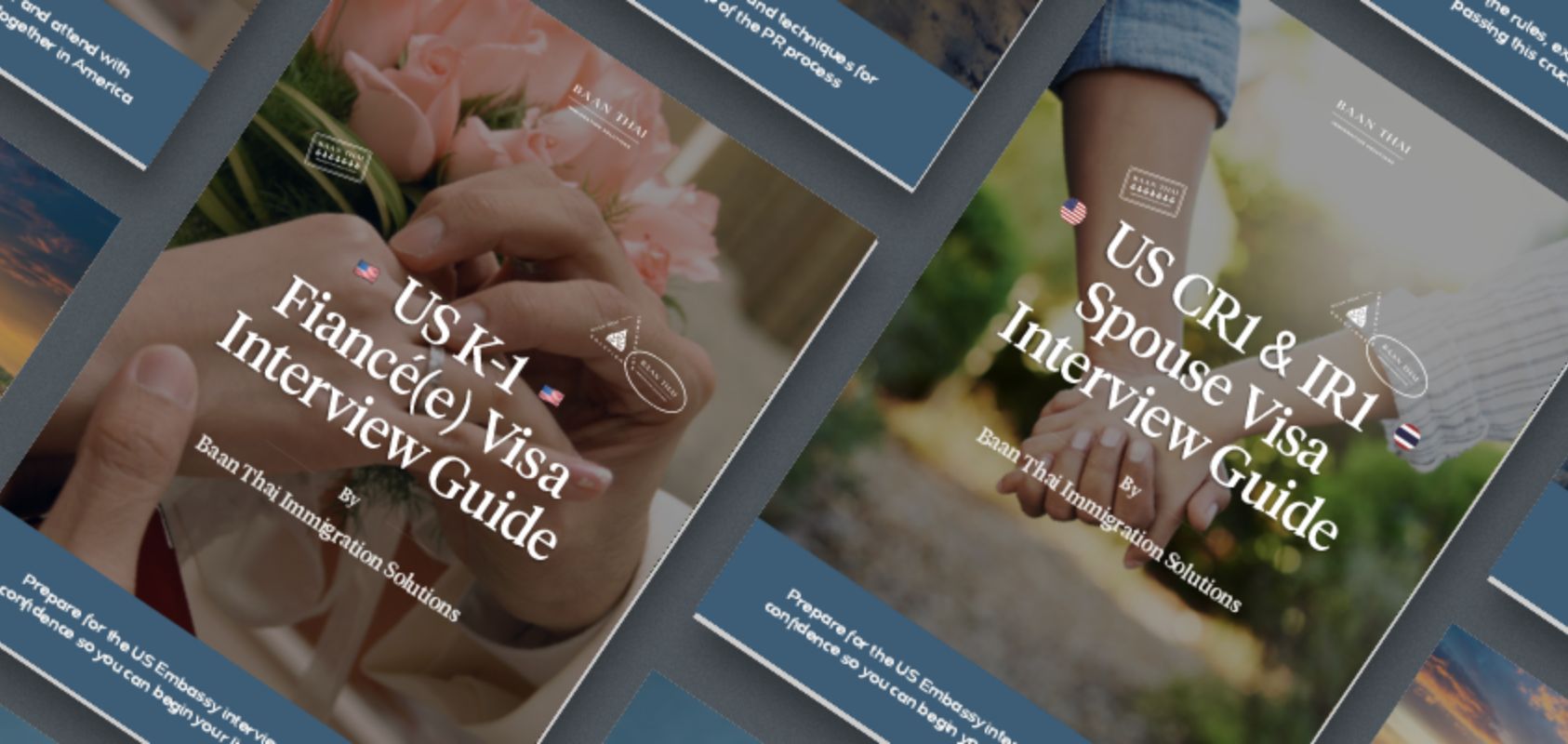 Simultaneously, Scott helped Mark's team select the appropriate CRM for tagging and managing lead data. As Scott explains, "Organization and timeliness are critical in our high-touch/red carpet solution, so we have to keep contacts organized. We developed the CRM system to make sure every lead is properly categorized and tagged, and this information is shared with team members."
This system also facilitated the longer-term process of lead nurturing. "Not everyone wants to purchase right away, so we created a system to follow up with potential clients and provide them with additional useful information. This demonstrates that we care and also keeps the Baan Thai brand front of mind until clients are ready to make a decision. "
The next goal was to begin establishing Baan Thai's credibility and authority. Rather than typical written testimonials, Scott and Mark decided short "customer story" videos would have a greater impact.
The partners at Baan Thai have many years of experience and many happy clients. We had to highlight this immediately, and I knew the "show, don't tell" approach was the way to go. Fortunately, several clients were more than happy to record video testimonials for us.
Capturing these customer stories on video took more effort than simply asking for a testimonial or writing one and asking the client to sign off on it. To create the videos, the team reached out to existing clients. We minimized the "ask" by providing simple instructions, prompts, and easy-to-use software. The videos have been a success and are featured on Baan Thai's Our Clients page.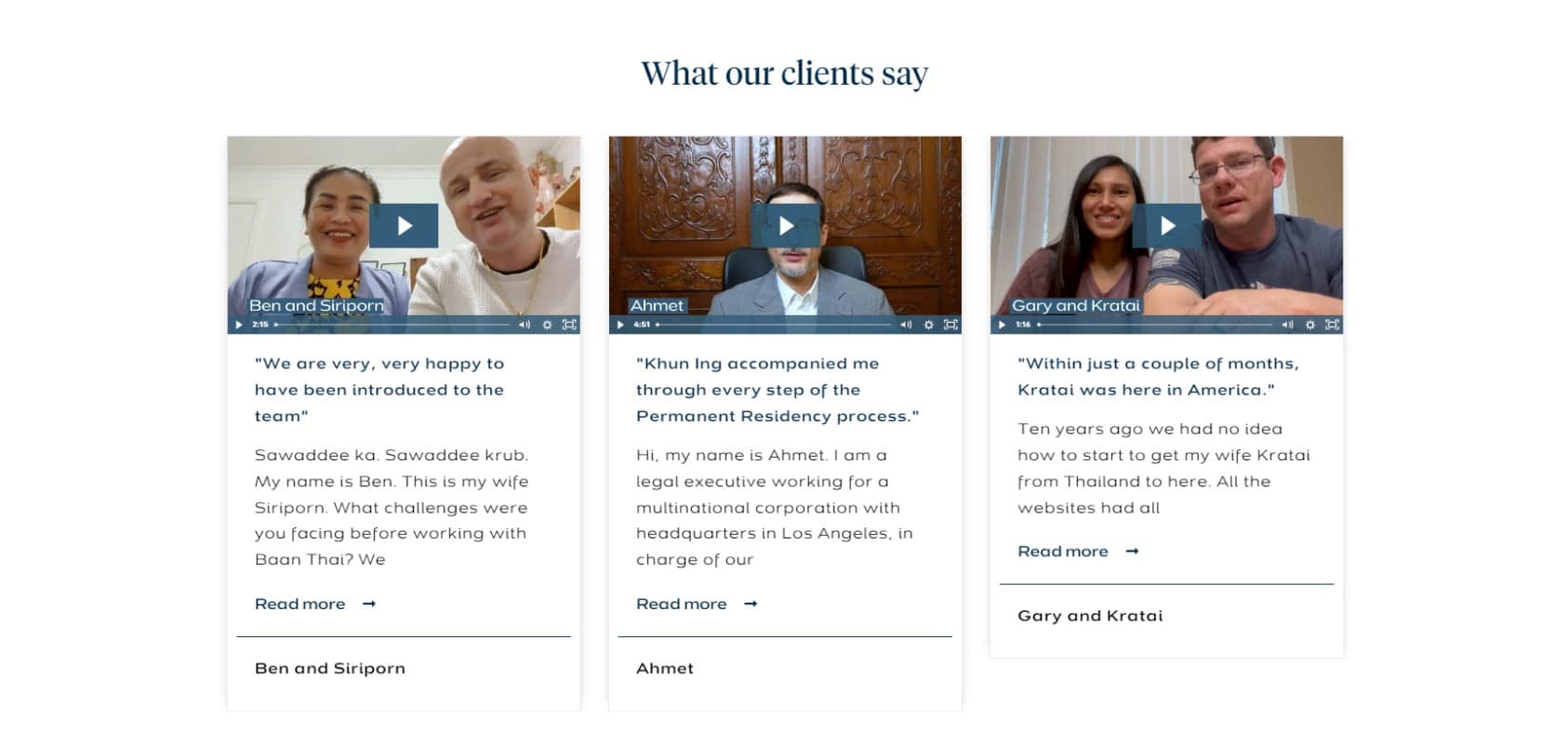 Similarly, Scott felt it was important to present video messages from the Baan Thai team. He convinced Mark that seeing the faces of the team instills trust and provides assurance to potential clients. As Scott says, "With any new brand, visitors have a certain amount of skepticism and hesitation, so we recorded videos of Mark and the team showing their level of professionalism and approachableness."
To make the video-capture process as easy as possible, Scott developed scripts and set up video equipment in the office that is always accessible and requires minimal effort to operate. These video messages from the Baan Thai team are placed strategically around the site.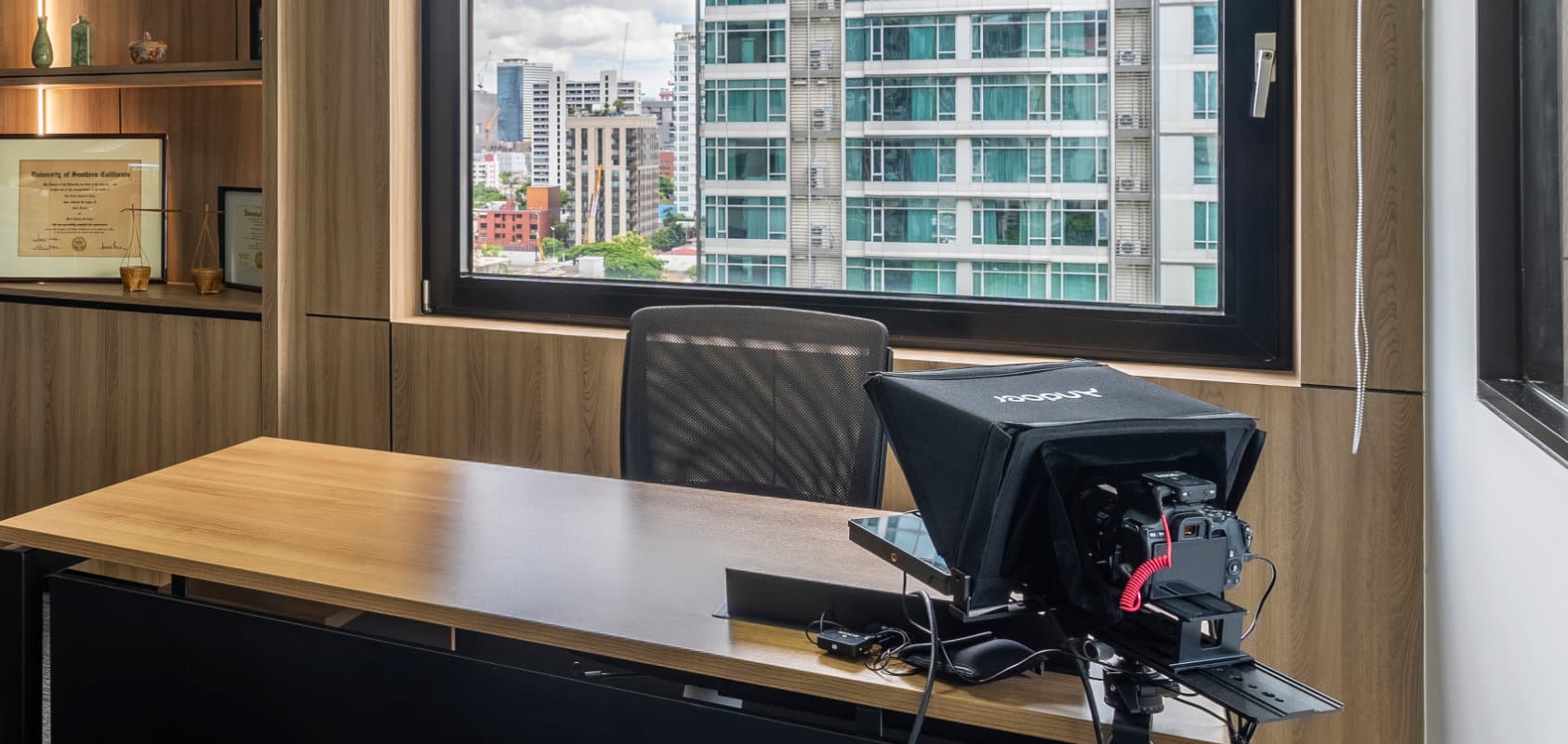 With an effective lead capture system up and running, the objective now was to reach out to more people with Baan Thai's offerings. This phase is ongoing, and involves several initiatives that contribute to building brand awareness among the target market.
As a law firm, we're interested in attracting clients, but we want clients to connect with us and engage our services after they've gained trust in us. Scott developed a creative strategy to tell our story in a compelling way, which is essential.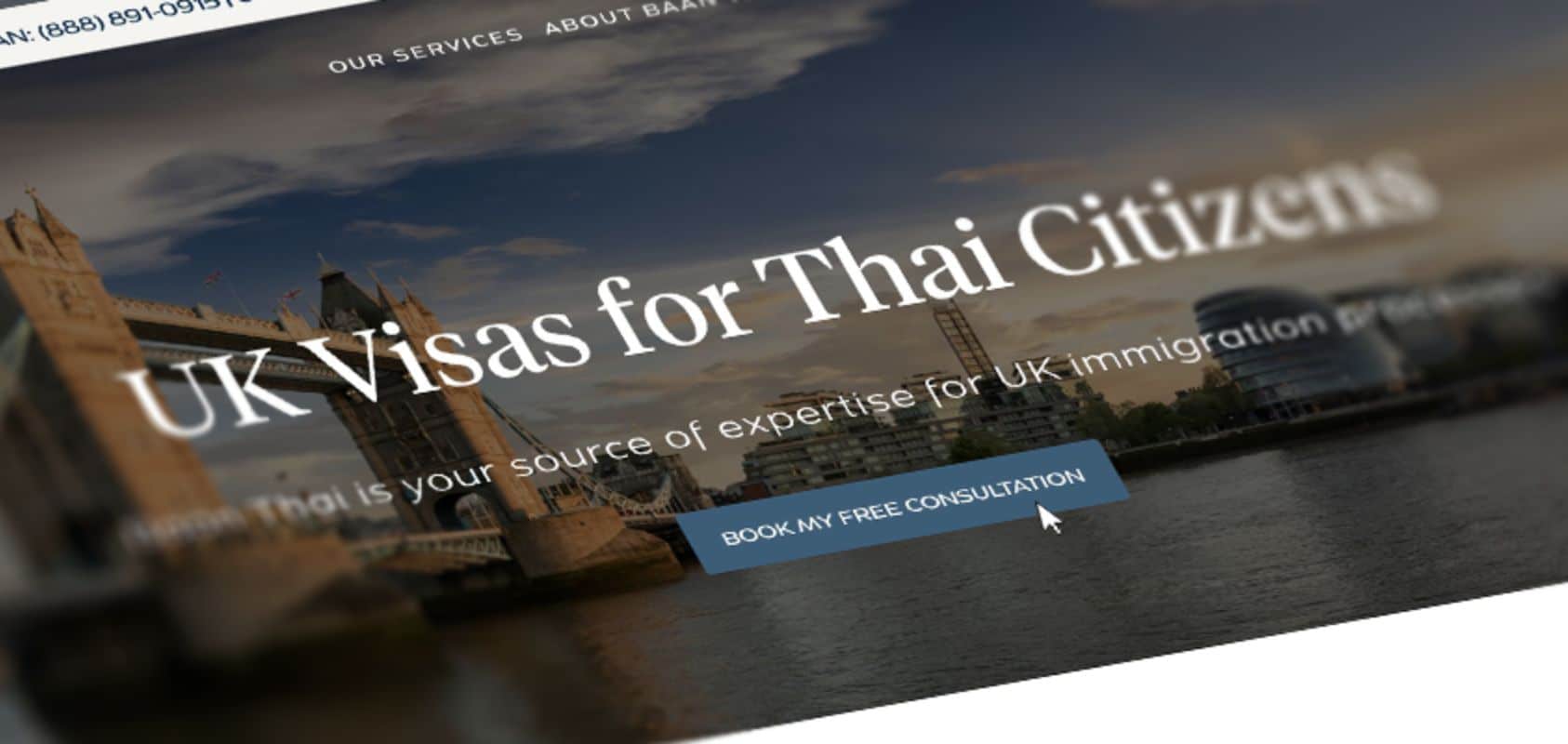 Baan Thai's online presence is continuing to increase as a result of the inbound marketing campaigns, which provide the information potential clients are looking for. The website has grown to include two more new service pages, and three new immigration-focused lead magnets. The topics were all identified as highly appealing to Baan Thai's target audience, and all are freely downloadable from the website.
The Baan Thai team reached out to their clients and captured over 20 5-star reviews on Google within the first 3 months, greatly contributing to brand awareness. Leads have been so numerous that they are overwhelming the Baan Thai team's ability to handle them all, so new hiring is planned.
Going forward, Scott is organizing in-person outreach for Mark and his partners within the local expat communities, for example at chambers of commerce events. There are advertising campaigns planned for Facebook and LinkedIn as well.
Mark's decision to go the fractional CMO route for Baan Thai Immigration Solutions has been an unqualified success. He is impressed by Scott's ability to understand his vision and company goals, and translate that into a mutually agreed-upon strategy.
Our leads have grown immensely in the last six months. We've gone from having zero prospects to a healthy population of contacts with whom we connect through our lead magnets. The number of contact forms or inbound requests we receive has increased to the point where I've had to hire more staff.
Mark credits much of this success to his team, which includes his Thai partners, expert immigration counselors, and his growing in-house marketing team (led by a fractional CMO).