This case study looks at 3bExam, a company that provides a browser-based exam management platform for occupational health professionals. Their solution streamlines the many processes required for occupational health testing in the United States, for example, DOT (Department of Transport) testing of commercial drivers. These frequent, mandatory tests involve tedious workflows and generate an excessive amount of paperwork for all those involved.
3bExam's online platform applies automation and paperless workspaces to greatly increase efficiency and ensure compliance for examiners, administrators, practice managers, and occupational health directors, not to mention the testees. All of this greatly reduces the workload and stress associated with administering these tests. In this industry, their solution was a game changer and contributed to steering the profession away from its traditional paper-based workflows.
3bExam is led by Rich Frye, the current Vice President of Business Development. The 3bExam brand is both the name of Rich's company and the name of their browser-based software platform. 3bExam launched at the annual American Occupational Health Conference in April 2014.
3bExam's fractional CMO is Ravin Nair from the Growth Connect network.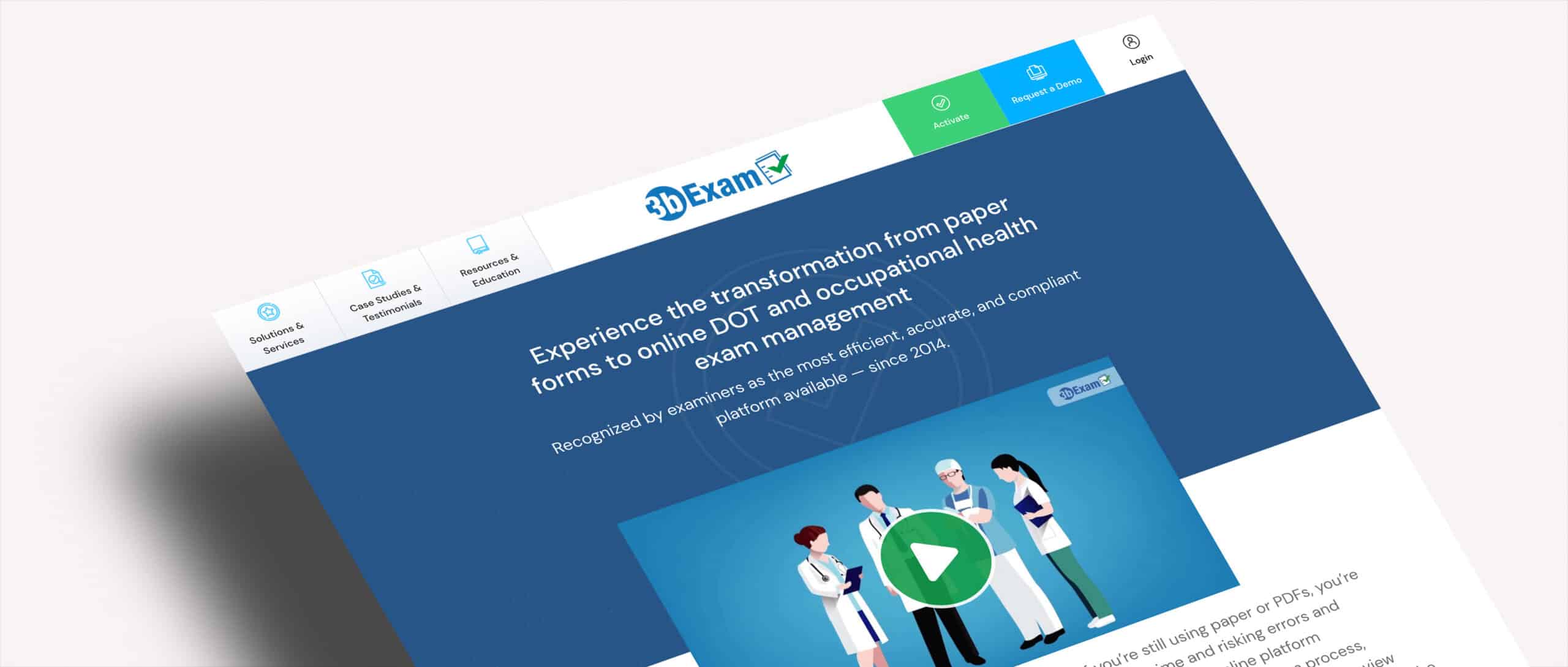 After launching in 2014, Rich began growing his customer base in three ways: attending industry conferences and trade shows, running telemarketing and email campaigns, and through referrals and word of mouth. It was mostly the last of these — 3bExam's reputation and referrals — that was contributing to the growth of the company.
3bExam was offering something new — something digital and paperless in a highly analog industry. The company was successful, but Rich could see greater opportunities to accelerate 3bExam's growth. He also knew it would require a more comprehensive marketing strategy than simply relying on word of mouth.
In 2021, he decided to act. Given the highly specific nature of their niche service offering and their cutting-edge technology, he knew he needed someone to help articulate what 3bExam offers and who their target audience is.
He also knew they needed to upgrade their online presence. 3bExam is an online portal, but its website had not been updated since its launch in 2014, and it looked its age. Worse, it had never been optimized for SEO, and was therefore not contributing to reaching more of their potential market.
We were in need of a new, search-optimized website and growth strategy for reaching more of our target market and growing our customer base.
Rich discovered the Growth Connect network of marketing strategists through a referral from one of his vendors. He reached out and was introduced to Ravin Nair, a Fractional CMO at Growth Connect. After an initial call to determine they were a good fit for each other, they began building 3bExam's new marketing strategy in September 2021. The collaboration is still ongoing today.
Ravin got started with a discovery process that included reviewing 3bExam's existing website and marketing efforts. He simultaneously began regular calls with Rich, asking a series of structured questions to understand his service offerings, target market, competitors, and goals. From there, he could lay the foundation for 3bExam's new marketing strategy.
I divided my approach to helping Rich and 3bExam into three phases: creating a foundational marketing blueprint, guiding the construction of a strategic, search-optimized website, and implementing an inbound marketing strategy to leverage the new site once it went live.
Let's take a look at these three phases in more detail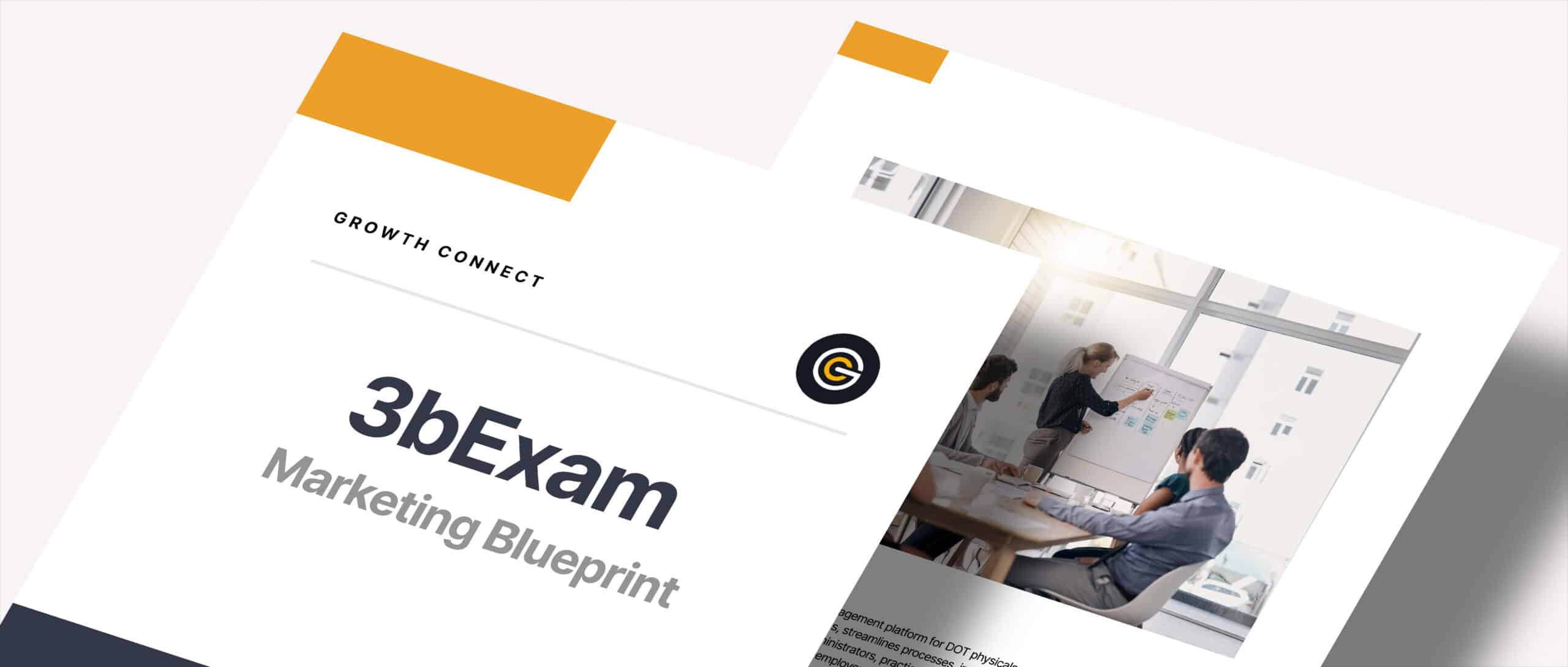 The first few meetings between Rich and Ravin involved clearly defining the people and organizations that benefit from 3bExam. It was essential to identify the pain points that drive prospects to seek a solution like 3bExam, and the journey they take to becoming a 3bExam customer. Next came defining 3bExam's strengths, weaknesses, and opportunities in comparison to other players in the space.
These processes highlighted 3bExam's competitive advantages and helped define their target market and brand messaging. As Ravin explained, crafting persuasive messaging relies on a deep understanding of the target audience's needs and goals.
Analyzing and defining your ideal customers should be 80% of your marketing. If you leave no stone unturned here, the other 20% — your website and campaigns — becomes easy.
Ravin also enlisted the help of SEO experts to identify keywords and content that would resonate with 3bExam's target audience at all stages of the buying process — from being aware of a problem to considering a solution like 3bExam. He also collaborated with them to apply SEO best practices in creating a new sitemap for the 3bExam website rebuild.
All of this research was combined into a single foundational marketing blueprint. It outlined 3bExam's unique selling points, target customer personas and buyer journeys, SEO opportunities, website restructuring, and messaging tone and vocabulary. It set the stage for 3bExam's growth strategy for many quarters to come, with the development of their new website and a solid content marketing plan.
Rebuilding 3bExam's website was the next step in the growth plan, requiring a complete overhaul of the sitemap, a refreshed design, and new copy. Before they could start, Ravin had to develop the concept. He created a low-fidelity mockup of all the website pages before enlisting the help of Pronto Marketing, a WordPress website agency, to create a full mockup in Adobe XD.
Key elements in the new website that were missing from the old website include in-depth case studies, testimonials, separate pages for 3bExam's DOT exam management and occupational health solutions, and a dedicated resource section for educational articles and industry updates.
With the information gathered during the marketing blueprint phase, Ravin was able to easily direct Pronto to produce iterations of the new website for Rich's review. When it hit the mark, they both knew they had an excellent platform from which to begin launching campaigns.
The goal was to create a website that attracts the right audience and accurately represents the 3bExam brand.
The website build process went smoothly, except for a common minor issue with the integration between form submission data and 3bExam's backend, which was resolved efficiently.
The new website was now ready to be one of the pillars of 3bExam's growth strategy and received positive feedback from the 3bExam team and their clients
A meticulous information gathering and planning process ensured that after the new website launched, visitors would find it, sign up for demos, and become clients.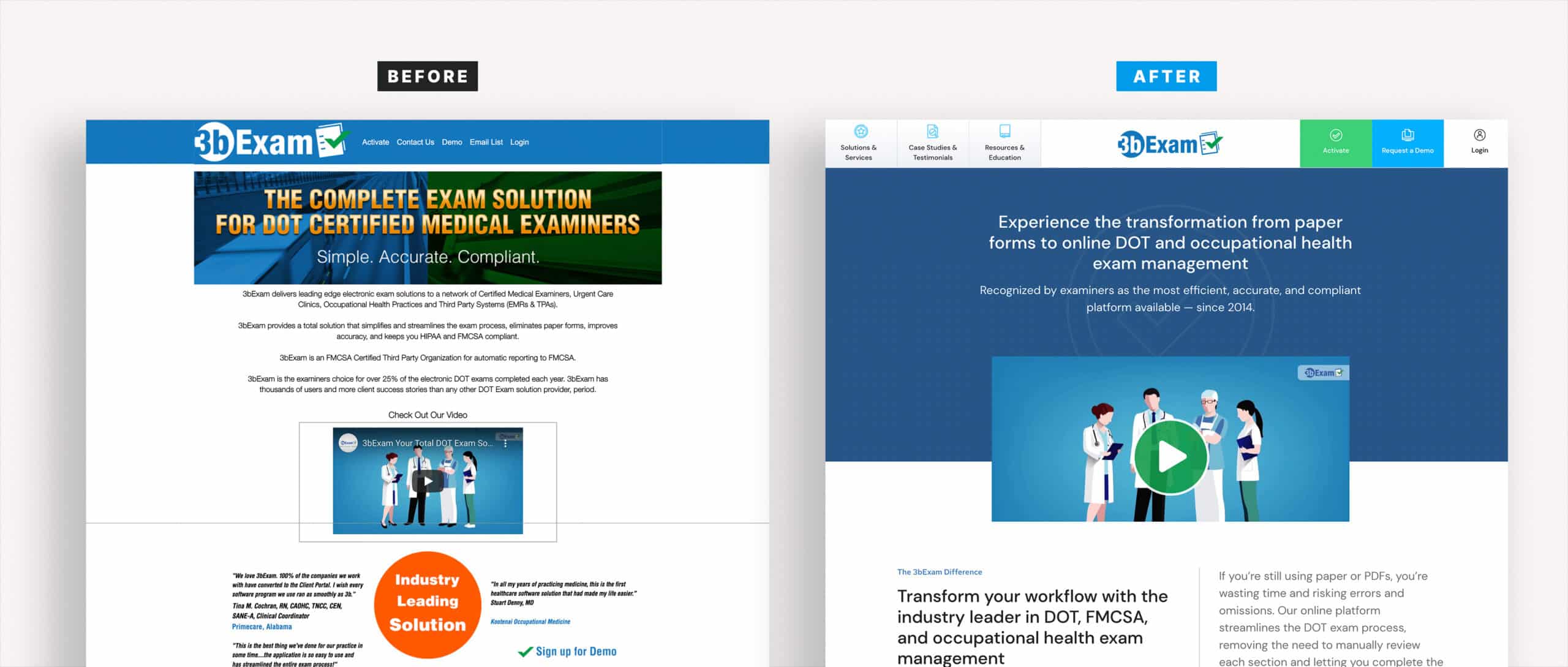 With the new website ready, Ravin began tackling a key SEO challenge: Research had shown that the keywords for 3bExam's services had very low search volume. His solution was to publish articles that were optimized for related search terms that the target audience would look for, beyond seeking a solution to their problem. These included relevant topics and keywords such as:
what does a dot physical consist of 

dot disqualifying medical conditions

how to get certified to perform dot physicals
It didn't take long before the newly launched website and inbound marketing strategy started to pay off. The website began to appear on the first page of Google for search terms such as "dot physical software" and "dot exam software" (for which they currently rank second from the top).

The improved SEO ranking of articles and inner pages started bringing people to the website; 27% of search traffic comes from these pages. But how did this affect the bottom line? The increase in site traffic and organic searches have resulted in more demos booked, more accounts activated, and an increase in total revenue for 3bExam.
Creating useful content with sufficient search volume that would resonate with 3bExam's target audience was crucial, and it has paid off.
Rich's decision to engage a fractional CMO has been a tremendous success, amounting to a transformation for his company. Whereas previously he had relied on referrals to grow 3bExam, the new website and inbound marketing strategy lets him reach a larger audience and engage with them more effectively. Better yet, business continues to grow month over month.
We've achieved excellent results! Year-over-year, our site traffic has increased by 60%, and organic searches have increased by 80%. More importantly, we've seen an increase in revenue, product information requests, and demo requests.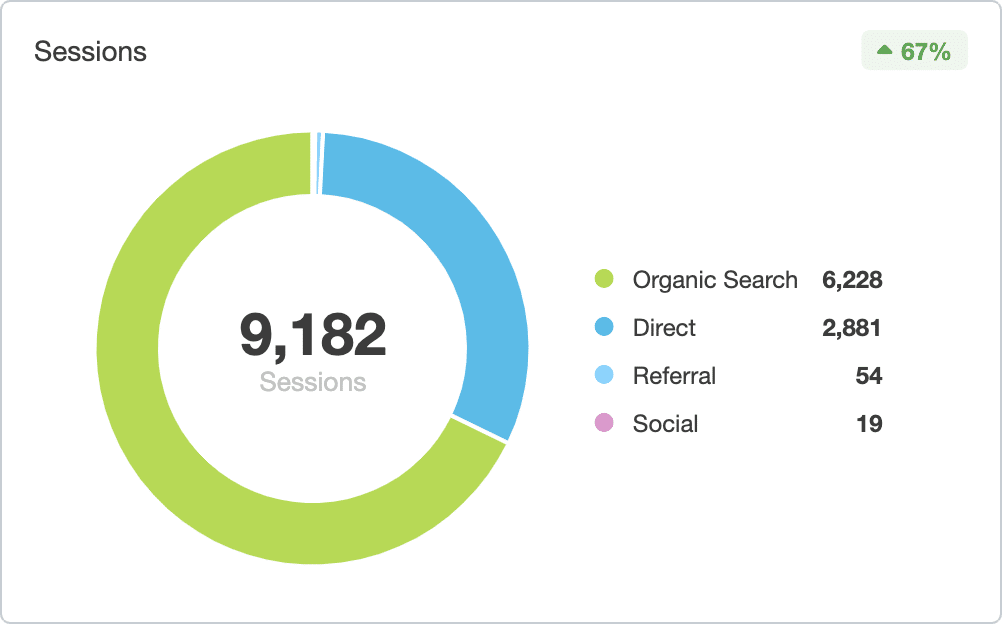 Rich recently gave Ravin and the Growth Connect network a five-star Clutch review. He has been impressed by Ravin's expertise, attention to detail, and ability to understand their marketing challenges and craft a tailored solution. He also cited the professionalism of Growth Connect:
Our communication with Growth Connect is excellent. They're responsive and attend all our meetings. They provide us with specific time frame estimates that they adhere to. They stayed on budget and met deadlines.